Ruth Binger Honored as a 2019 Most Influential Business Woman
---
Jul 2019
Ruth A. Binger has been honored as a 2019 "Most Influential Business Woman" by the St. Louis Business Journal.

Ruth was selected for the impact she has made in the legal industry. Ruth is a principal with Danna McKitrick and heads the firm's transactional group. She is also a marketing co-chair. She has served as a member of the executive committee.
Ruth leads three mastermind/peer advisory groups of business owners and leaders across industries.

The 25 honorees were chosen from almost 240 nominations with the assistance of previous honorees.

Click here to read more about Ruth and her award.

Ruth's Reading List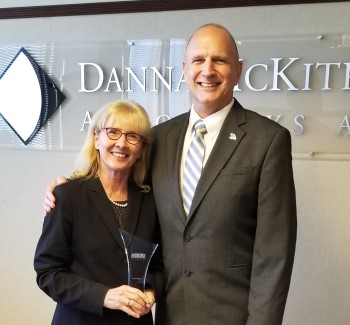 Ray McCarty, President/CEO of Associated Industries of Missouri, presents Ruth Binger with her 2019 Most Influential Business Woman award.