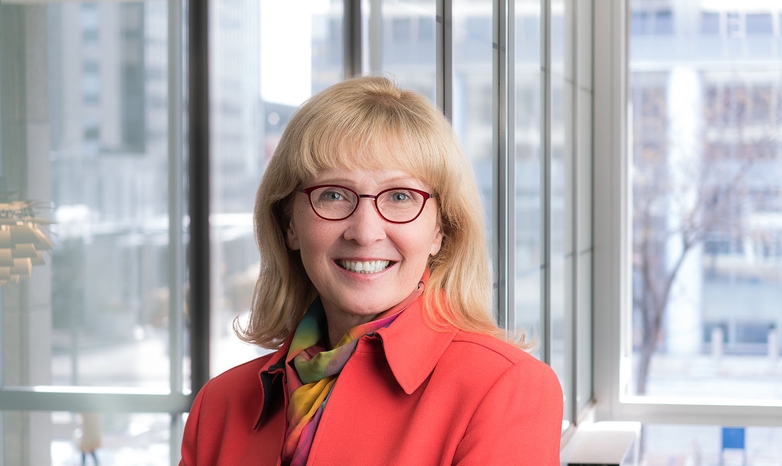 Ruth A. Binger
Principal
---
Ruth Binger advises entrepreneurs who found family-owned, closely held, or multi-national companies. Ruth's clients fall mainly into these industries: manufacturing and distribution, professional services firms (including marketing, web development, and software development), transportation, and retail. She provides counsel on employment issues, intellectual property, digital law, cybersecurity, and corporate structure and governance, guiding her clients to preventive solutions.
In addition to her work with her clients, Ruth facilitates several independent business owner peer advisory boards.
Due to her experience representing businesses and facilitating the advisory boards, Ruth's clients look to her for the most appropriate and effective legal strategy.
A leader in the firm, Ruth heads Danna McKitrick's transactional group. This group includes mergers and acquisition transactions, tax, employment, cybersecurity, banking, intellectual property, real estate finance, international law, business and commercial law, securities, and dispute resolution. She is also a marketing co-chair and recently served on the executive committee.
Corporate and Business. Guiding clients on formation, structure, governance and exit strategies, Ruth also crafts and reviews contracts for licensors/licensees, franchisees, consulting, and joint venture agreements.
Intellectual Property and Digital Law. Ruth works in the ever-evolving arena of intellectual property and digital law. She handles trademark and copyright registration, and enforcement and related transactions, including joint ventures, licensing, and corporate partnering. Ruth counsels clients on privacy, advertising and communication law with respect to social media advertising on the web. She also helps clients create and implement strategies and solutions for industry-specific data privacy, usage, and cybersecurity protection obligations.
Employment. Ruth has extensive experience in the mitigation, avoidance, and resolution of employment and labor issues. Ruth provides proactive counsel and advice to her clients, including preparation of employment manuals, noncompete agreements, confidentiality agreements, employment agreements, human resource legal strategy, intellectual property protection agreements, and executive incentive plans.

Ruth was named to 2023 POWER List for Mergers & Acquisitions by Missouri Lawyers Media.

Ruth is the recipient of the 2022 ICON Award from Missouri Lawyers Media in recognition of her longstanding and influential career in law.

She was also honored as a 2019 "Most Influential Women in Business" by the St. Louis Business Journal.

Testimonial | Chris Miget, President | EnviroPAK
"For years Ruth has helped me proactively manage our business(es) and been there when the reactive situations have cropped up that required legal counsel. Her experience in confidentiality agreements, employment agreements and HR legal strategy has allowed us to honor all voices and protect the interests of the Company. Achieving this balance is no small task. Bright, thoughtful, insightful and professional are qualities Ruth brings to our successful business relationship."
---
PUBLICATIONS & SPEAKING ENGAGEMENTS
Author (a sampling):
Panel Member/Moderator:
Co-author: "Cyber Space for Rent," St. Louis Small Business Monthly
Speaker (sampling):

Intellectual Property Issues For Your Organization
Recruiting Issues for Executives
Compensation Issues for Executives
The Trojan Horse of Social Media: Threats & Solutions in the IP and HR Area
Social Media, IP and Employment – Permanent Records of Temporary Impulses
Minefields in Employment Law
What Every Supervisor Should Know: Maintaining a Legally Compliant Work Environment
J.D., DePaul University School of Law (1983), DePaul Law Review
B.S., Northern Illinois University (1980)
Illinois
Missouri
U.S. District Courts, Eastern District of Missouri
American Bar Association: Business Law Section, Intellectual Property Section, Labor & Employment Law Section
The Missouri Bar
Illinois State Bar Association
Associated Industries of Missouri, board member
St. Louis RCGA, former director
2023 POWER List for Mergers & Acquisitions, Missouri Lawyers Media
2022 ICON Award, Missouri Lawyers Media
2019 "Most Influential Women in Business," St. Louis Business Journal
"Hero in Small Business," St. Louis Small Business Monthly
St. Louis RCGA Pacesetter Award
2008 "Lawyer's Lawyer Award," 10th Annual Women's Justice Awards, St. Louis Daily Record
"40 Under 40" Award, St. Louis Business Journal
BioGenerator Client Appreciation Award (2005)