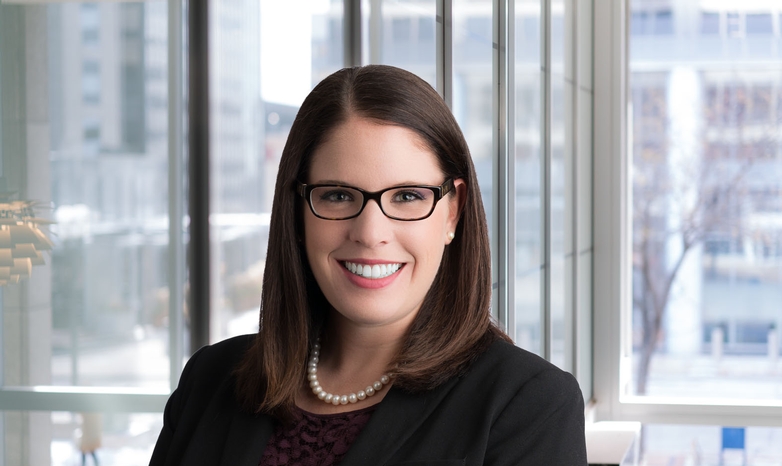 Katherine M. Flett
Principal
---
Katherine Flett is a member of the litigation team whose primary focus is on assisting clients with business litigation, employment law, real estate matters, transportation and trucking, insurance defense, and bankruptcy matters.
Business Litigation. Katherine represents individuals and businesses of varied sizes, from closely-held, family-owned businesses, to large corporations in all stages of litigation. She has experience working on complex commercial and business disputes.
Employment Law. Katherine represents businesses in various employment-related issues such as employment agreements, including non-compete and non-solicitation agreements, and defending employment discrimination cases.
Transportation and Trucking Law. Katherine represents trucking companies with regard to compliance with Department of Transportation (DOT) regulations, owner-operator agreements, business torts, claims defense, litigation defense, regulatory matters, employment-related issues and others.
Real Estate. Katherine represents property owners, contractors, lenders, and homeowner associations in various real estate matters, including contract negotiation and disputes, litigation, liens, property easements, and indentures.
Bankruptcy. Katherine represents clients on both the creditor and debtor side of bankruptcy. On the creditor side, Katherine has assisted businesses and individuals in asserting claims against bankruptcy estates and other related matters. On the debtor side, Katherine has represented debtors in complex Chapter 7 liquidation and Chapter 11 reorganization cases, and has also been successful in achieving out-of-court workouts with creditors. Katherine has also assisted individuals and businesses in asset purchases in Chapter 11 cases.
Insurance Defense. Katherine routinely represents insurance companies and their insureds through all phases of litigation (from the initial intake of a matter through pre-trial and trial preparation), primarily involving third-party personal injury claims related to automobile accidents and first-party insurance. She has also been successful in applying her direct negotiation and mediation skills to resolve matters prior to litigation when possible.
Local Counsel. Katherine has served as local counsel and assisted out-of-state attorneys with pro hac vice admission in cases for businesses and individuals. She is familiar with the local rules and procedures of the courts listed below and can assist in determining the best strategy in these venues. Katherine is available to serve as local counsel for cases filed in the following courts: Missouri Circuit Courts for the City of St. Louis, St. Louis County, St. Charles County, and Jefferson County; Illinois Circuit Courts for Madison County and St. Clair County; the U.S. District Courts for the Eastern and Western Districts of Missouri; and the U.S. Bankruptcy Court for the Eastern District of Missouri.
Prior to joining Danna McKitrick, Katherine also gained litigation experience, primarily in the area of employment law and insurance defense.
Katherine serves as secretary for the Board of Directors of the St. Charles (MO) Regional Chamber. She is also a mentoring co-chair for the Board of Directors of the Professional Women's Alliance.
Katherine received a 2023 Best Lawyers: Ones to Watch in America recognitionTM for her work in Insurance Defense. She was also honored as one of the 2022 "Top 100 People to Know in St. Louis to Help You Succeed in Business in St. Louis" by the St. Louis Monthly (SBM) magazine.
---
COMMUNITY INVOLVEMENT
St. Charles Regional Chamber, secretary of the board
Professional Women's Alliance, board member and mentoring co-chair
Rosati-Kain High School Alumnae Association
Sigma Sigma Sigma Greater St. Louis Area Alumnae Association
St. Louis BBQ Society Certified Judge
J.D., cum laude, University of Missouri-Columbia School of Law (2015), Order of the Coif; Student Ambassador, Associate of The Journal of Dispute Resolution, Women's Law Association, Phi Delta Phi Legal Honor Society; Awards: Gerard P. Fleischut Labor Law Award; Thomas E. McCarthy Labor Law Award; CALI Excellence Award – Labor Law; CALI Excellence Award – Food Law & Policy; CALI Excellence Award – Administrative Law
B.A., summa cum laude, Lindenwood University (2012), Women's Softball, Scholar Athlete Award (3 years)
MODL Trial Academy (2017)
Missouri
Illinois
U.S. District Courts, Eastern and Western Districts of Missouri and Southern District of Illinois
U.S. Court of Appeals, Eighth Circuit
The Missouri Bar
Women Lawyers' Association of Greater St. Louis
Transportation Lawyers Association (TLA)
2022 Top 100 People to Know to Help You Succeed in Business in St. Louis, St. Louis Small Business Monthly
2023 Best Lawyers: Ones to Watch in America