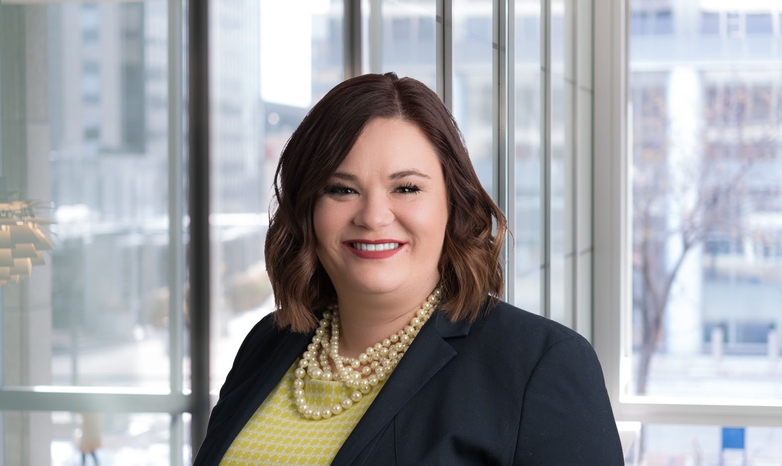 Hannah E. Mudd
Associate
---
---
AREAS OF PRACTICE
---
INDUSTRIES
Hannah Mudd is a member of Danna McKitrick's transaction team. As a member of the team she advises clients on a variety of corporate and business transactions including entrepreneurial, real estate, banking, employment, and corporate formation and governance matters.
Her background includes experience in an array of areas from regulatory compliance, foreclosures, contract analysis and drafting, and employment matters to business formation with start-ups. Hannah advises her clients proactively in order to address and minimize risk while working strategically to reach the best outcomes for her clients.
Corporate and Business. Guiding clients on formation, structure, governance, and exit strategies, Hannah also crafts and reviews contracts for licensors/licensees, franchisees, and joint venture agreements. Her practice includes the negotiation, drafting, and closing of a variety of transactions including mergers and acquisitions, asset purchases, and stock purchases.
Real Estate. Representing lenders, contractors, developers, homeowner/condo associations, and landlords, Hannah addresses matters relating to the purchase, sale, financing, management, and leasing of properties. This includes preparation for incentive programs, negotiation and disputes, title, lending, and lien work with property owners, developers, landlords, lendors, and homeowner associations.
Banking and Finance. The banking, finance, and financial services fields regularly involve complex rules and regulations which impact corporate operations, deal structures, lending practices, and securities. Hannah advises and supports banks and other financial services institutions regarding lending activities, foreclosures, and commercial mortgage loans in addition to securities regulation, fiduciary issues, and FINRA compliance.
Employment. Hannah assists employers with the mitigation, avoidance, and resolution of employment and labor issues. This includes the preparation of employment manuals, noncompete agreements, confidentiality agreements, employment agreements, and human resource strategies.
Hannah helped form the Business, Entrepreneurship & Tax Law Review at the University of Missouri School of Law and served as the Associate Editor-in-Chief for the inaugural year of the Review. She was recognized for her Overall Outstanding Contribution to the Review. Additionally, during her law school career she received the CALI Award of Excellence in Public Policy and for her work with the clients of the school's Entrepreneurship Legal Clinic. Hannah was noted for her involvement in several organizations within the law school, including many leadership roles and a variety of pro bono contributions.
Prior to law school Hannah received her Bachelor's degree in both political science and history from Saint Mary's College in Indiana. She was equally involved in many campus and community organizations, including serving as a student manager for the Notre Dame football team. Today Hannah volunteers for a variety of organizations in St. Louis and is an active member of the Saint Mary's Alumnae St Louis Club, the Missouri History Museum, and the Missouri Botanical Garden.
---
COMMUNITY INVOLVEMENT
Professional Women's Alliance
Saint Mary's College, Saint Louis Alumnae Club
Young Friends of the Missouri Botanical Garden
Young Friends of the Missouri History Museum, Steering Committee, Secretary
J.D., Dean's List, University of Missouri-Columbia School of Law (2017)
B.A., Dean's List, Saint Mary's College, Notre Dame (2014)
Missouri
Illinois
U.S. District Court, Eastern District of Missouri
Bar Association of Metropolitan St. Louis
The Missouri Bar, Young Lawyer's Section, council member - District 8
American Bar Association
Women's Lawyers Association of Greater St. Louis
CREW-St. Louis