Cybersecurity & Data Protection
---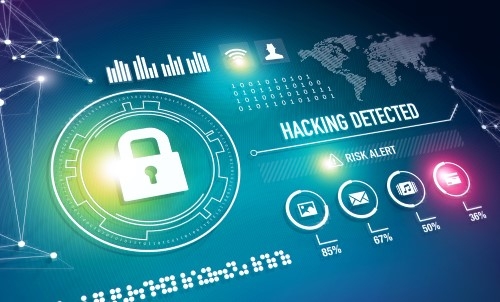 No business is immune from data breaches or cyber hacks. Data privacy and cybersecurity are at the forefront of today's business concerns. Data breaches are not new; they have occurred since companies and individuals began storing private data in any form. Public data breaches are escalating as technology advances and electronic data grows exponentially. According to the Privacy Rights Clearinghouse, over 8,000 data breaches involving at least 10.3 billion records have been reported in the U.S. since 2005, including international breaches which affected individuals in the U.S. As use of the cloud for storing and sharing information continues to rise, the risk of data breaches increases.
The most common potential data breaches for businesses include:
Hacking

Stealing or misusing credentials – weak or stolen passwords
Phishing/malware/ransomware – clicking on email from unknown email address, clicking on an infected attachment or link, or accessing website that downloads malicious software

Software and network vulnerabilities – not keeping software applications and network systems updated
Accidental/inadvertent breach – not knowing or following data security protocols
Lost devices
Insider – careless or disgruntled employees/former employees or independent contractors with access to confidential data or whose access was not disabled upon termination

Social engineering
Business email compromise
CEO fraud

W2 fraud
---
CYBERSECURITY AWARENESS AND CYBERSECURITY - On Demand Video Webinar
Danna McKitrick recently joined
Associated Industries of Missouri (AIM)
in sponsoring a video webinar on cyber awareness and cybersecurity. A panel of cybersecurity specialists gave a 360° review of risk mitigation and incident response in cyberattacks. Information included how to protect your company data, employee data, and customer information from being hacked and what to do if your system is hacked.
---

At Danna McKitrick, our Cybersecurity team assists clients to create and implement practical strategies and effective solutions to data privacy, usage, and cybersecurity protection obligations related to the client's business and industry. Our team is experienced in health care law, intellectual property, telecommunications industries, and related regulatory requirements. We also engage other trusted providers including forensic firms, IT management companies, accountants, government officials (Secret Service and FBI), public relations experts, and insurance brokers.
HOW WE CAN HELP BEFORE A BREACH
Data Breach Data Protection and Cybersecurity
Data privacy and cybersecurity risk management

Risk assessments
Remediation recommendations (risk mitigation specialists)

Data protection and security policies, protocols, and procedures to bar unauthorized access to electronic and hard copy information
Audits of secure data processing procedures and protected transfer of personal information by cybersecurity team
Regulatory and statutory compliance and guidance: HIPAA/HITECH; COPPA; FACTA
Incident response policies and procedures, including identifying a list of cybersecurity experts and federal, state, and/or local authorities to be notified
Employee data privacy and cybersecurity training
Employee social media policies
Whistleblower guidelines
Privacy and cookies policies
Terms of use for company websites
Vendor negotiation

Contracts
Cybersecurity protection

Cybersecurity and privacy risks in M&A transactions
Analysis of cybersecurity insurance policies
HOW WE CAN HELP AFTER A BREACH
Data Breach or Compromise
Incident response coordination with designated personnel
Investigation of breach with a team of cybersecurity experts
Coordination with public relations
Notification obligations to state and local authorities, clients, vendors, and customers
Review/analyze information through forensic images, backups, and data; establish chain of custody
Compliance with U.S. and EU security incident and data breach response procedures
Defense of breach-related litigation
Coordination of insurance claims
Identification of revisions needed after data compromise or breach:

Incident response protocols and procedures
Data protection
Additional information: U.S. Department of Justice Cybersecurity Unit

Cybersecurity & Data Protection Attorneys